Beer
We have a wide variety of draft and bottled beer for your enjoyment. The following is a listing of the brews we offer.


Draft Beer
Budweiser
Bud Light
Michelob AmberBock
Michelob Ultra
Stella Artois
Strongbow
Cidre
Guinness
Yuengling
Miller Lite
Shock Top
Magic Hat
Heineken
Coors Light
Sam Seasonal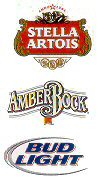 Bottled Beer
Budweiser
Bud Light
Bud Select
Bid Light Lime
Michelob Ultra
O'Douls
Fosters
Angry Orchard
Coors Lite
Amstel Light
Heineken Light
Heineken
Ice House
Amstel Light
Corona
Corona Light
Miller Lite
Sam Adams Lite
Busch
Magners
Natural Light
Medalla
Smirnoff Ice
Newcastle
PBR
Red Stripe
We also have select wines available and full liquor service.
Home | Directions | Events | Beers
Karaoke Song List | Photo Gallery | About Us | Contact Us

O'Shucks Pub & Karaoke Bar
7467 International Drive
Orlando, FL 32819
407-352-7892

© 2019
Site maintained by Sparrow & Finch, Inc.