Karaoke "Every Freakin' Night!!" at 9:00 PM

We are Open Every Day 5PM-1:50AM

Must be 21 or over with valid ID or passport (strictly enforced)

Karaoke @ 9pm each night.

We DO NOT have a kitchen, but feel free to have food delivered to our location.

,

Oshucks is a non-smoking/non-vaping bar!

See you soon!

Available Now!! Come into the bar and pick up your O'Shucks 20th Anniversary T-shirts.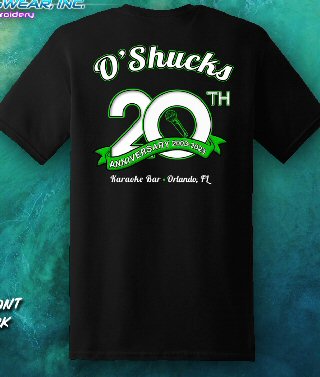 Karaoke "Every Freakin' Night!!" at 9:00 PM
Come join us every night for Karaoke at one of the Best Karaoke locations in Orlando!
Come and Get Your Sing On!!
Click Here for our current song list by artist
Click Here for New songs recently added to our list
O'Shucks Donates Dollar Bills on the Walls to Comaraderie Foundation
At the suggestion of longtime customer Wally Collins, a Vietnam Veteran, Owner Bob Orlando decided to donate all of the dollar bills on the walls of the bar to the Camaraderie Foundation. The foundation works with Vietnam Veterans and veterans returning from Iraq and Afghanistan who are dealing with PTSD. The foundation is headquartered in Orlando and serves local veterans. A story about the donation was covered by Steve Barrett at WFTV, Channel 9 News and the video can be found Here. It is estimated that over $8000 was donated to the foundation. Below are pictures of the crew from the foundation that came into to "harvest" the dollars from the bar and an after picture of the bar once they were done. Bob Orlando has decided to make this a tradition that will be repeated every three or four years, so come in soon and start posting your names on dollar bills again!!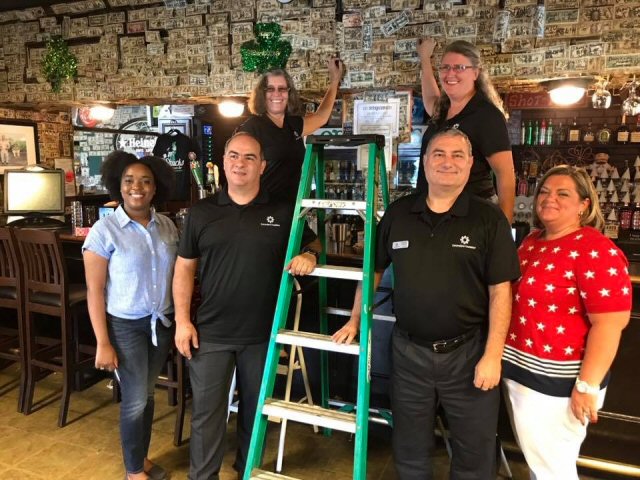 Foundation Staff Preparing to Harvest Dollars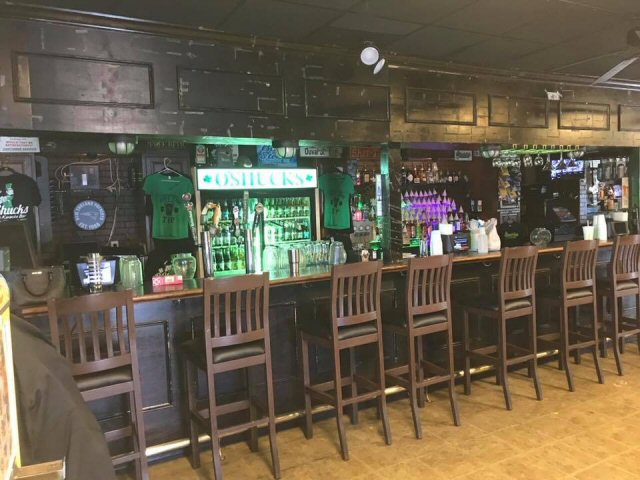 The bar is Ready to Be Filled With New Dollar Bills
VOTED BEST KARAOKE BAR IN ORLANDO
(by Orlando Weekly 2008)
You must be OVER 21 with a valid ID AT ALL TIMES. Sorry, no Exceptions.
O'Shucks Karaoke Bar is open every day 5PM-1:50AM. Join us for Happy Hour from 5PM to 7PM.
Special events daily, with live Karaoke every night at 9:00 PM. See the Events Calendar for more information.

Follow O'Shucks on Facebook by clicking Here. Click on the "Like" button at the top of the page to become a fan.
We are also available for private parties.
Contact us for more information!
O'Shucks offers a great selection of beers, including Domestic and Imports, Bottles and Drafts and Full Liquor service.
O'Shucks Karaoke Bar is conveniently located on International Drive in Orlando, within minutes of Central Florida's major attractions, including Universal Studios, Walt Disney World, Sea World, and many hotels.
If you have any questions or would like to share your experiences at O'Shucks Karaoke Bar, feel free to leave us a message! If you'd like to link your website to us, send us an email!
Call for more info!*
Visit O'Shucks Karaoke Bar for:

Billiards
Darts
Karaoke
O'Shucks Karaoke Bar is a Non-smoking establishment

Home | Directions | Events | Beers
Karaoke Song List | Photo Gallery | About Us | Contact Us

O'Shucks Karaoke Bar
7467 International Drive
Orlando, FL 32819
407-352-7892

© 2023
Site maintained by Sparrow & Finch, Inc.